Funcom's free to play MMORPG 'Age of Conan' just introduced the brand new Saga of Zath server. The time-limited server will be available until the 15th of May, when the game celebrates its tenth anniversary, and gives players a fresh new start and a chance to get their hands on unique rewards.
Players will be rewarded for reaching level 20, 50 and 80. They can earn exclusive rewards such as new titles, a full set of new social armor and an epic weapon set, cloak and necklace.
On the new Saga server players also gain access to the all new Hoard of the Third Raider which contains a host of new treasures, such as a monstrous armored spider mount! Players can claim the unique rewards on a second character of their choosing and their character on the Saga server will be transferred to the main server after the Saga server ends.
How To Join The Saga of Zath Server
It's easy – all you have to do is click a button!  From the character selection screen, look for the option on the right to "Create Saga Character".  You won't need an empty character slot to play on Saga of Zath, either.  Just create a character and play right away!
 (It's a little hard to see, but you can see the Saga Server character option on the right-center part of the character select screen)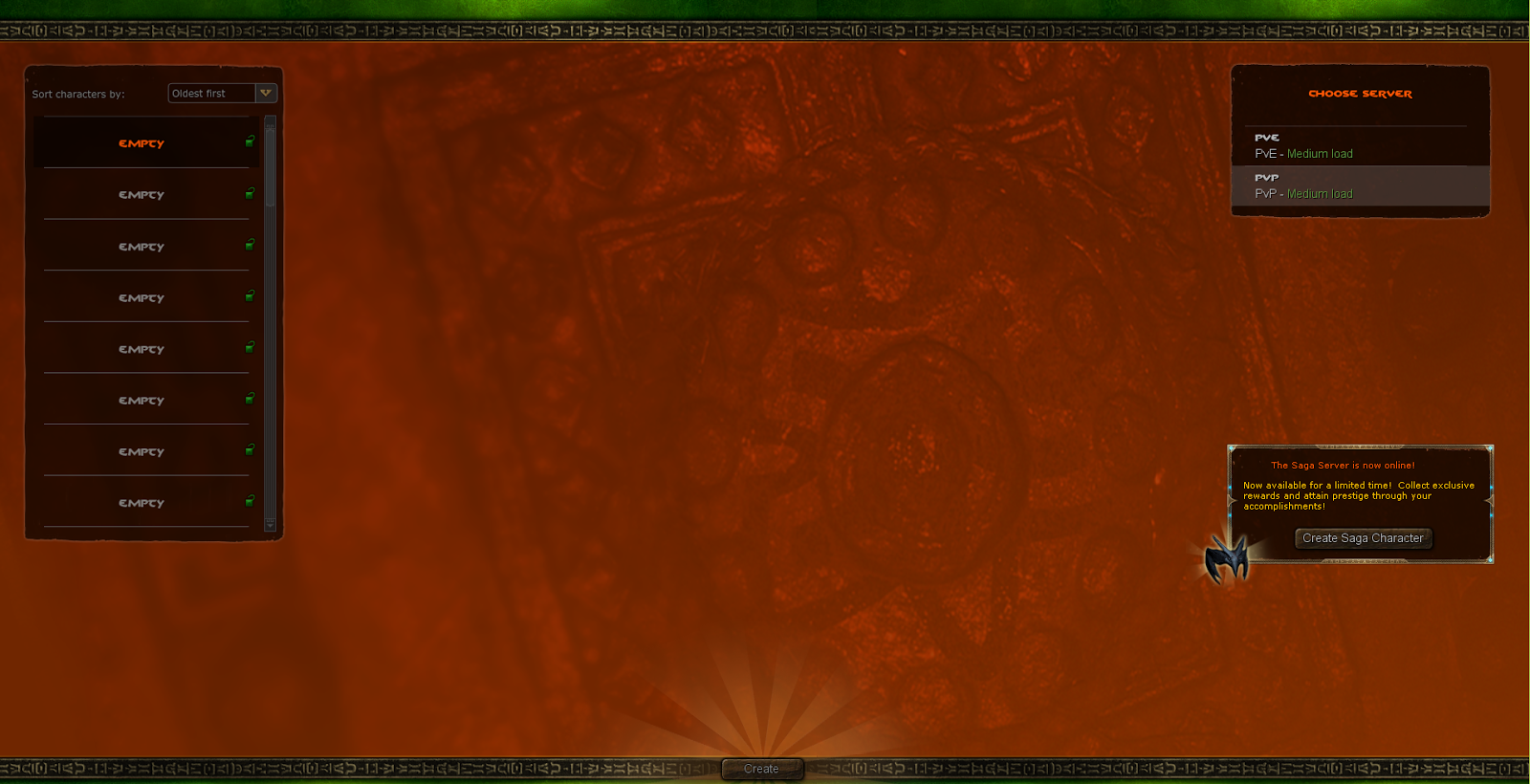 You cannot transfer a character nor use a character boost on Saga of Zath; everyone starts fresh with nothing but rags and broken oars to their name.  This also means you don't have access to pre-existing account claims nor tokens when starting on Saga of Zath.
A Fresh Start
"We wanted to offer veteran players the thrill of starting fresh on a new server and new players the opportunity to start on equal footing with everyone else." Says producer Josh Mills. "Players can not only earn great rewards for themselves on the Saga of Zath server, but they can also work together towards a common goal which will unlock a reward for everyone."
If anyone is able to defeat the strongest raid boss in the game they get a unique title and every player on the server is rewarded with the Embrace of Zath vanity cloak. This challenge will be very difficult as they must conquer the monstrous Ethram-Fal, a Stygian wizard infused with the immense power of the Emerald Lotus.
More Info
'Age of Conan', originally launched in 2008, is a free to play mmo, download it at www.ageofconan.com .